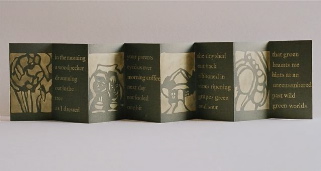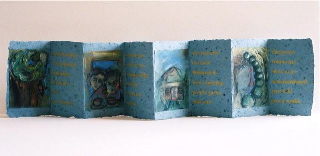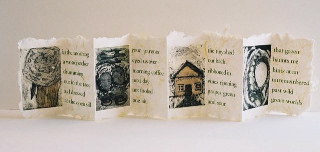 Gina has been writing poetry and making prints for quite a while, so combining them both into her small artist's books under her own Seawrack Press seemed like a logical way to pursue both interests. She uses the chine colle method of employing thin pieces of colored Japanese papers that have been torn to desired shapes. She positions these onto her inked etching plate. She then places a piece of heavier dampened printmaking paper over the thin papers and plate, being careful not to disturb any of the thinner papers, and rolls everything through the press. The resulting print is a seamless image created by the ink from the plate as well as the colors of the Japanese papers.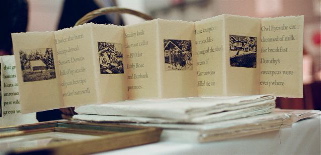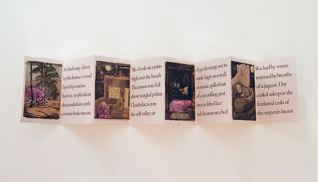 This is what she has to say about our Japanese papers she is working with..."I usually use a light or dark colored Hadura paper for the base layer of the chine colle, as it gives a beautiful edge when torn damp. Occasionally I use Kozo or Gampi papers; they are both strong and can be very thin and allow other colors to show through them. Kozo has a wonderful softness, and Gampi has an attractive sheen. I often use Japanese rayon tissues that have a very small gold and silver metallic fleck in them, as many of my etchings and writings have to do with dreams, dusk, and the night sky. These papers produce subtle color combinations well suited to nocturnal musings.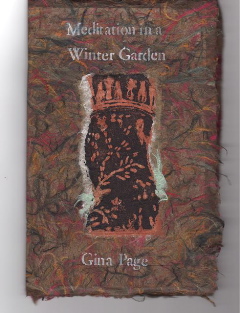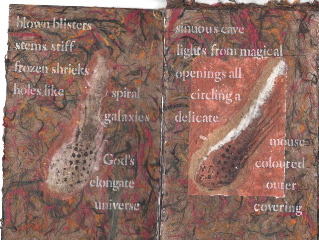 Gina does not have her own printing press and type but has found an alternate means of producing text. For the past few years, she has been stenciling the text onto the papers using a plastic sheet of upper and lower case letters. One letter at a time! She says it is time consuming, yes, but effective when carefully done.