Making your own invitations is not entirely a snap!
But we can say that it is rewarding and it can save you a bundle.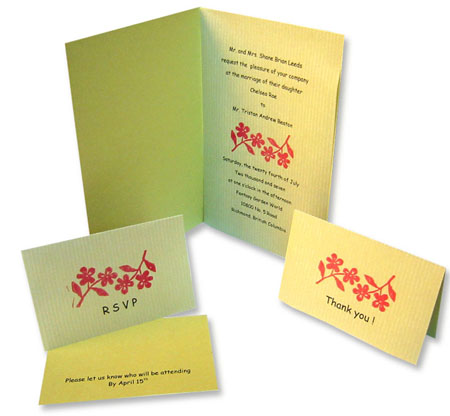 Shown here is a very simple invitation. It has a fresh country feel. All we used was one of our rubber stamps and a red stamp pad. Our amazing selection of papers offer you a variety of colors and textures to choose from! What is most important is that this very special invitation informs family and friends of the unique character and love of the bride and groom.
So, although making your own wedding invitations is not difficult it does require at least two skills... One, that you are able to use a computer, (or know someone that does) and secondly, and most importantly, you know who you are!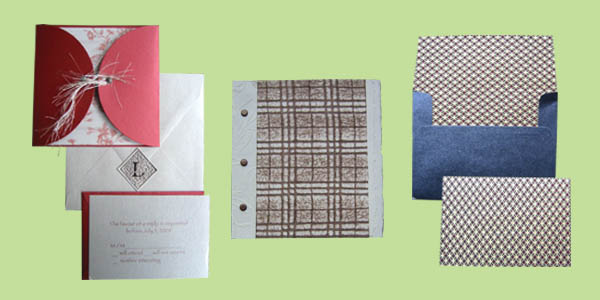 Tips & Suggestions
Choose papers that reflect you and the tone of the occasion. Look through our drawers at all the papers, noting what you are drawn to. No final decisions need to be made at this point, just enjoy yourself!
Choose your envelope size first. If you wish to purchase today, ask to see what envelopes we have in stock. Will you need RSVP's and Thank-you cards?
Always make a sample! Then have an invitation making party with a few friends, if you don't drink too much wine you will have 100 invites before you know it!
If you are making your photo albums or guest books buy your papers at the same time as the invitations this will insure continuity. We sell acid free book binding boards and acid free photo album papers. Photo corners come in a variety of colors. If you wish to purchase a photo album or guest book ask to see our vast selection.
Laser printing or photocopying? Yes - on a surprising selection of papers. But if you want to reduce headaches, don't choose the very thin tissues (they can stick in your machine) or bumpy, heavily textured stocks (they don't print legibly). Avoid feeding deckle edges through first, especially with laser printers. With photocopiers, feeding a handmade paper through under a 1/4" folded-over standard weight paper will often solve the deckle edge problem.
We carry bone folders that give a clean, crisp fold. To cut the light tissue papers use an exacto knife. A cutting mat with a measured grid on it will make the job a lot easier too. Some papers look best with a torn edge: take a Q-tip and dip it in warm water, run it along the edge of a ruler like you would a pencil. Tear along the wet fibers keeping the ruler in place... mock deckle edges.
Consider our sealing waxes and decorative seals to add texture and color to your invitation. Our selections of beautiful ribbons add an elegant touch or try the raffia for a funky fun look. Have fun!
Use a calligraphy pen to address the envelope and choose a special stamp.
To get yourself started just print & fill out our Wedding Consultation Form below.
Please fax/email the filled out form back to us and simply call us at 604.684.2531 for an appointment.